Sunshine Announces its Healthy High Performance Cleaning Program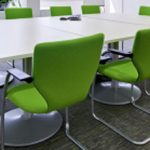 In partnership with environmentally conscious organizations such as Johnson Diversey, Sunshine created its "Healthy High Performance Cleaning Program" (HHPC).
HHPC was developed to minimize the adverse environmental impact on the buildings we service, and to create a safe and healthy working environment for our customers' employees, visitors and tenants, and for our valued employees.
"Sunshine Green…Responsibly Clean" has been a core philosophy for Sunshine for over ten years. Our commitment to green cleaning ensures that facilities are cleaned and maintained in an environmentally responsible manner. The resulting benefits to our customers are improved employee health and productivity, and healthier and more satisfied tenants.
Sunshine adheres to strict purchasing guidelines, as established in HHPC, for the procurement of cleaning products and equipment. Wherever possible, Sunshine complies with third party certifications such as Green Seal and Eco Logo, which is a path to LEED compliance.
Here are some of our green cleaning guidelines:
•Vacuum cleaners that meet the requirements of the Carpet and Rug Institute Green Label Program and are capable of capturing 96% of particulates 0.3 microns in size and operate with a sound level less than 70 dBA. Sunshine utilizes Pro-Team Back Vacuums with a HEPA Level Filtration removing 99.97% of dirt and allergens .3 micron or larger from floors and surfaces.
•Hot water extraction equipment for deep cleaning carpets capable of removing sufficient moisture such that carpets can dry in less than 24 hours. Sunshine is equipped with state of the art truck-mounted extraction units.
•Powered maintenance equipment including floor buffers, burnishers and automatic scrubbers equipped with vacuums, guards and/or other devices for capturing fine particulate that operate with a sound level less that 70 dBA. Sunshine utilizes the most current technology in all of its equipment.
•Battery-powered equipment that uses environmentally preferable gel batteries.
•Where applicable, active micro-fibre technology to reduce cleaning chemical consumption and to prolong the life of disposable scrubbing pads.
•Powered equipment ergonomically designed to minimize vibration, noise and user fatigue.