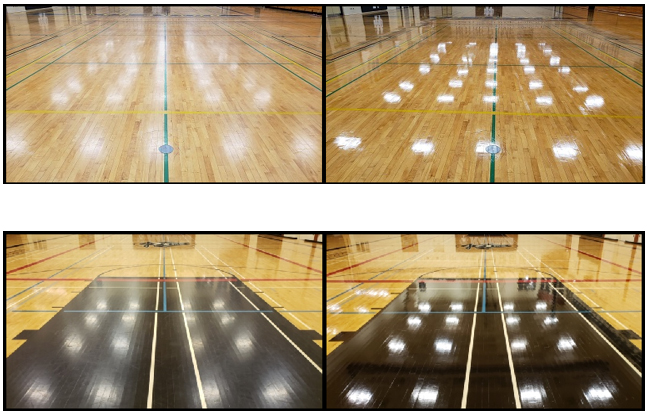 Wood flooring is one of the most important elements of a gym sports facility – it provides a safe, high performance surface that allows athletes to enjoy their game, fully realize their potential while also helping prevent injuries and accidents.
Does the previous application of floor finish in your gym look faded and worn away?
Is the floor not providing the high performance non slip benefits required by athletes?
The safety of students, staff and rental groups is an important consideration when choosing a wood gym floor maintenance program.
Benefits of our wood gym floor restorative program:
Cost effective maintenance program reducing the frequency and expense of complete sanding and line repainting
No screening/sanding is required reducing the impact of introducing dust to the environment
Quick turnaround. We complete a full-size gym on Friday, leave it to cure over the weekend and the gym is available Monday for students and user groups.
Floors are protected and safe for school and rental program use.
The maintenance neutralizer when used on a scheduled basis will retain the glossy appearance for extended time.
Please contact us today to assess what our Wood Gym Floor Restorative Program can do to improve the overall performance of your gymnasium.
Go to our Homepage in the top right-hand corner and click on Get A Quote or call us at 905-335-2020