Although Green Cleaning does not have a single accepted definition, Sunshine has one clear objective as it relates to green cleaning: to enhance environmental health and workplace safety.
"Sunshine Green – Responsibly Clean" is a core philosophy for Sunshine. We recognize that cleaning products and practices have a direct impact on quality of life. We therefore strive to be good stewards when maintaining facilities, which is about "caring" for a building and going far beyond providing basic janitorial services.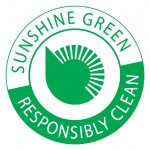 Green Janitorial Equipment and Chemical Guidelines
Vacuum cleaners that meet the requirements of the Carpet and Rug Institute Green Label Program and are capable of capturing 96% of particulates 0.3 microns in size and operate with a sound level less than 55 dBA.
Hot water extraction equipment for deep cleaning carpets capable of removing sufficient moisture such that carpets can dry in less than 24 hours.
Colour coded micro fibre cloths to reduce risk of cross contamination and reduced reliance on chemicals for cleaning. All micro fibre products are made in Canada.
Eco Logo cleaning chemicals that reduce the harm to cleaners, building residents and the environment. All cleaning chemicals used by Sunshine are manufactured in Canada.