Day Porter / Matron Services
Keep Your Building Looking Its Best at All Times
Periodic, scheduled cleaning keeps your building looking professional and inviting, but what happens between those regular visits? Day porters and matrons, cleaners who are on hand during normal operational hours, are responsible for ensuring your building looks consistently clean and presentable.
Day cleaning can be beneficial for a range of facilities, especially larger and busier ones that experience heavy foot traffic, and can help them to:
Stay on top of routine maintenance by attending to spills, replenishing supplies in washrooms, and more.
Reduce energy consumption since cleaning takes place during the day when lighting and HVAC systems are already in use.
Improve overnight security as security guards and alarm systems do not always need to take the presence of cleaners into account.
Increase tenant satisfaction by letting your employees, residents, and guests get to know and trust the individuals keeping their spaces clean and tidy.
What Sunshine's Day Porters/Matrons Can Do for You
Our well-trained, bonded, professional, and uniformed staff provide a constant presence to not only maintain a high level of cleanliness, but also to react immediately to special concerns, cleaning emergencies, and other needs.

The porters/matrons assigned to your building can perform any or all of these functions:
Keep lobbies and common areas continuously clean.
Freshen washrooms and re-stock supplies on a regular basis.
Conduct minor maintenance, such as the re-lamping of burnt out lights.
Clean and prepare kitchen, cafeteria, and break areas, particularly before and after "rush" periods.
Prepare and clean conference rooms before and after meetings.
Continued touch point cleaning to maintain a healthy environment.
Respond to spills and other cleaning emergencies.
Police entrances and parking lots for litter and debris.
Superintendent coverage.
All of our cleaning team members are fully bonded and supervised by Sunshine management personnel. Our equipment uses noise reduction technology, which minimizes audible distractions for your staff and visiting guests.
Customize Your Day Porter/Matron Services to Fit Your Needs
At Sunshine, we understand that no two buildings are alike. Every facility has its own unique needs and, as a result, its own individual cleaning requirements.
We can sit down with you to discuss and determine staffing levels, daily schedules, and maintenance plans suited to address your goals. We will also work with you to select the individual members of Sunshine's large staff that will be the best possible "fit" for your building.
Areas We Serve
Sunshine offers day porter and matron services in:
Peel: Mississauga and Brampton
Halton: Oakville, Burlington, Milton, and Halton Hills
Hamilton, Stoney Creek, Dundas, and Ancaster
Niagara Falls, St Catharines, and Welland
Cambridge and Guelph
Haldimand County
Frequently Asked Questions about Our Day Porter/Matron Service
1. What tasks can a day porter/matron take care of?
Day porters/matrons can handle a range of day-to-day tasks including:
Tidying common areas like lobbies, break areas, and conference rooms.
Freshening and re-stocking washrooms.
Carrying out touch-point cleaning to maintain a germ-free environment.
Responding to spills and other on-the-spot issues.
Policing entranceways for litter and debris.
Performing minor maintenance like replacing light bulbs.
In this way, day porters/matrons often support evening and overnight cleaners who tackle noisier tasks like hard floor and carpet care.
2. How long can a day porter/matron be at my building throughout the day?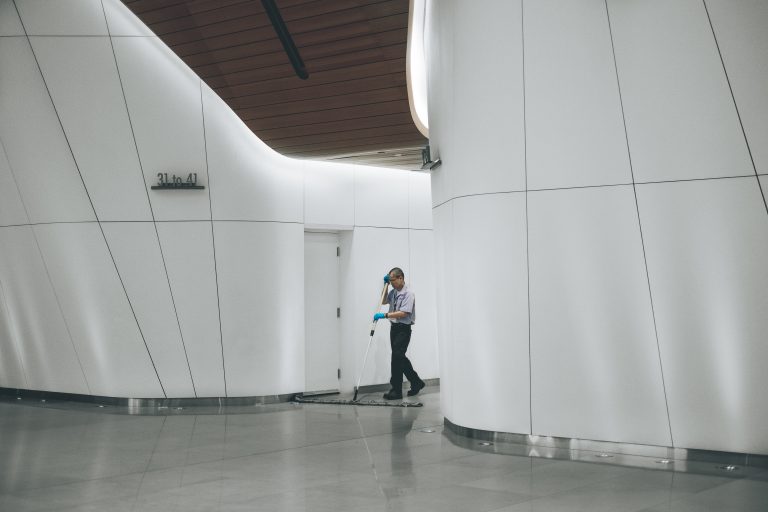 The short answer is that a day porter/matron can be at your building for the length of time that they are required.
In some buildings, day porters will come in for one or a few hours in the afternoon to re-stock bathrooms, tidy common spaces, and perform other light maintenance tasks. Evening or overnight cleaners will follow after the building's occupants have left for the day to carry out more comprehensive cleaning functions.
Other buildings will require one or more day porters/matrons to be on-hand at all times throughout the day. This is especially common in places where there's a significant amount of consistent foot traffic throughout the day like shopping centres or schools.
Ultimately, how long you need your day porter/matron to remain onsite is a highly individual decision. With over 65 years in the industry, we're happy to discuss your needs and work with you to determine the arrangement that best suits them.
3. Will day porter/matron cleaning services be enough on their own or will I still need additional maintenance?
In the majority of cases, day porter/matron services complement other cleaning services like evening and overnight cleaning, intensive floor care, and power washing.
Think of day cleaners as occupying a supportive role. Their focus is on tackling a greater number of smaller jobs to enable off-hour cleaning crews to devote their attention towards the bigger projects like hard floor maintenance or carpet and upholstery care.
4. What other cleaning services does Sunshine Building Maintenance provide?
Sunshine offers a full range of cleaning services for our commercial, industrial, and institutional, industrial, and institutional customers including:
We work in communities throughout the Golden Horseshoe.
5. Are Sunshine's day cleaning staff fully bonded?
Yes, all of our cleaning team members are fully bonded and supervised by Sunshine management personnel.
6. How many years has Sunshine Building Maintenance been in business?
Since being established in 1952, Sunshine has spent over 60 years developing levels of service that have helped us to grow in size and diversify our customer base. Today, we are proud to work with commercial locations, offices, schools, industrial settings, healthcare environments, long-term care facilities, and condominiums, and many others across the Golden Horseshoe.
Click here to learn more about us.
7. What industries is day cleaning best suited for?
Day porter/matron services can be beneficial for virtually any industry. In places that experience regular foot traffic throughout the day (including schools, condominiums, and retail settings), day cleaners can stay on top of routine maintenance needs. Day porters/matrons also carry out work in locations like industrial manufacturing and warehouse facilities, however, cleaning between shifts to ensure workspaces are always tidy and prepared.
8. Do you provide green day porter/matron cleaning services?
At Sunshine, we are strong proponents of environmental consciousness, sustainability, and stewardship and have made Sunshine Green Responsibly Clean a key part of our core philosophy for over ten years:
We select only products that meet well-established health and safety, performance, and packaging criteria.
We adhere to seven stewardship principles go beyond appearances, take a holistic approach, minimize exposure, cut down on residue, ensure safety, reduce all pollutants, and dispose of waste safely.
In partnership with organizations like Nilfisk-Advance & Avmor Canada, we created our Healthy High Performance Cleaning Program (HHPC) to minimize the adverse environmental impact on the buildings we service.
We use only janitorial equipment (like vacuums, buffers, and burnishers) with sound levels below 70 dBA.
Click here to learn more about Sunshine's commitment to green, environmentally friendly cleaning!