Is Your Building Ready for Spring? Get Clean Exteriors with Power Washing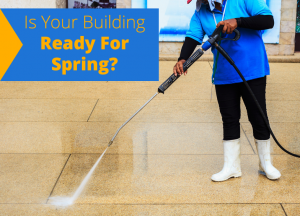 Winter weather can wreak havoc on your building's pristine exterior – or rather, no-longer-quite-so-pristine exterior, thanks to the salt, slush, and snow.
When the weather begins to turn warmer, you need to make sure your building looks clean and inviting on the outside as well as the inside. The exterior of your building includes all the outside walls, any walkways or stairs, pavement, and – if you have one – your parking lot.
Power washing, also referred to as high-pressure washing or pressure washing, is the ideal spring cleaning initiative to improve the external appearance and extend the lifetime of any building, from commercial buildings to condos.
What Are the Benefits of Power Washing?
Cuts through the toughest accumulated grime and rinses it away
Cleans large areas in a fraction of the time it would take to clean manually
Makes building exteriors and pavement look clean and fresh
Prevents long term damage and extends the lifetime of the building exterior and grounds by removing the contaminants and residue eating away at these surfaces
Makes walkways and stairs safer for pedestrians
Can be safely used on a wide variety of surfaces (e.g. siding, stone, concrete, brick, pavement, dumpsters, etc.)
Can be used to clean a surface before repainting
Cleans surfaces of most types of graffiti
Cleans surfaces of oil and other vehicle fluids
Cleans surfaces of sand, grit, and salt accumulation from the winter
Cleans surfaces of grime and residue from built-up air pollution
At Sunshine, we also use tested and proven environmentally-friendly cleaning fluids to ensure the safety of your building's visitors and tenants as well as minimize the impact on the environment.
Make your building look like new again with professional power washing services!
>> Whether you need one-time power washing as part of your spring cleanup, or you'd like an ongoing maintenance schedule, Sunshine can help! Contact us today to discuss your needs or submit a request for proposal.
Like this? You might also like:
Mark Brouwers is the Operations Manager at Sunshine Building Maintenance. He specializes in working collaboratively with clients to meet the specific cleaning needs of their building or facility.
Latest posts by Mark Brouwers (see all)