Do You Know These 4 Tips for Having Your Building's Hard Floors Stripped?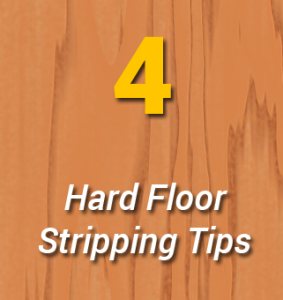 When someone enters your facility, one of the first things they will notice is the cleanliness of the floors – or, more specifically, the uncleanliness of them if they aren't well cared for. Proper hard floor maintenance will ensure people have a good first impression of your building.
Floor stripping is an essential component of a good floor maintenance plan. It returns floors to a beautiful, fresh state by removing stains, old wax, or stubborn dirt. The process strips away the top layers of wax from the hard floor's surface, and then treats the floor with a new finish to make it sparkle.
We have some floor stripping suggestions for your building to help this labour-intensive task get done in a way that works for you.
4 Floor Stripping Tips
Rotating Areas
Our first tip is to break your facility into three or four major sections, and rotate the floor stripping. The size of your building will determine how many sections you need, and the frequency of traffic will determine how often you need to have the floors stripped.
In most cases, splitting the building into four areas and stripping each separately is the ideal method. Doing so means that you will not have to close your entire building to have the floors serviced, and the floors will still receive the recommended amount of stripping.
Applying the Finish
People do not walk along the edges of a room. Therefore, the length of floor that runs alongside the wall does not require a full three coats of finish. Three coats for this area is overkill, and becomes a hassle to remove during the next floor stripping session.
We recommend applying the first coat of finish up to 15-20 centimeters from the wall, the second coat up to 7-10 centimeters from the wall, and only the final coat from wall to wall. This saves on both materials and labour, with no detriment to the hard floor.
Using the Right Equipment
The right equipment is important for floor stripping. Quality, proven equipment must be used for the stripping process itself.
When applying the finish, a flat mop is the best tool for the job. A flat mop greatly reduces the possibility of getting finish on the baseboards. Avoiding this will save much time in removing it after.
Customizing the Approach
Finally, only you know best what your building requires. You should work with a professional cleaning company that can customize your floor maintenance plan according to the needs of your specific facility.
Floor considerations include: how often to strip the floors, what other types of maintenance you will need (and how often), where the priority areas are, whether to rotate floor stripping, whether you want a high gloss on the floors' finish or not, and so on.
Working together with the right cleaners, you should be able to come up with the right approach for your hard floors. Through continuous collaboration and ongoing re-evaluation, your floors will always make a good impression.
>> Sunshine Building Maintenance will customize a floor maintenance plan for your commercial, condo, institutional, or industrial building. Get a no-obligation quote now!
More on Hard Floors from Sunshine
How to Get Ready for Spring by Stripping Your Floors with Green Products
Are You Making These 5 Common Mistakes When Stripping Floors?
Proper Hard Floor Cleaning and Maintenance – Part Three

Mark Brouwers is the Operations Manager at Sunshine Building Maintenance. He specializes in working collaboratively with clients to meet the specific cleaning needs of their building or facility.
Latest posts by Mark Brouwers (see all)